Get Connected with
Surfers Paradise Parish
Keep up to date with the Parish by following our Facebook page, signing up for the newsletter and checking our website for the latest news and blog posts.
Father Paul 
PARISH PRIEST 
Father Anthony Odionyenfe
ASSOCIATE PASTOR
Most Reverend Mark Coleridge DD BA DSS
Archbishop of Brisbane
Surfers Paradise Catholic Parish
Parish Priest:  Fr Paul
Associate Pastor:  Fr Anthony Odionyenfe
Archbishop: Most Rev Mark Coleridge
Parish Office Address: 50 Fairway Drive, Clear Island Waters, QLD, Australia
Office Hours: Monday - Friday, 9:00am - 12:00pm
Parish Email:  [email protected]
Parish Phone Number:  (07) 5671 7388
Learn more about
our churches
Our parish includes three churches; Stella Maris in Broadbeach, Sacred Heart in Clear Island Waters and St. Vincent's in Surfers Paradise. The Surfers Paradise Parish is one of the largest Parishes in the Archdiocese of Brisbane.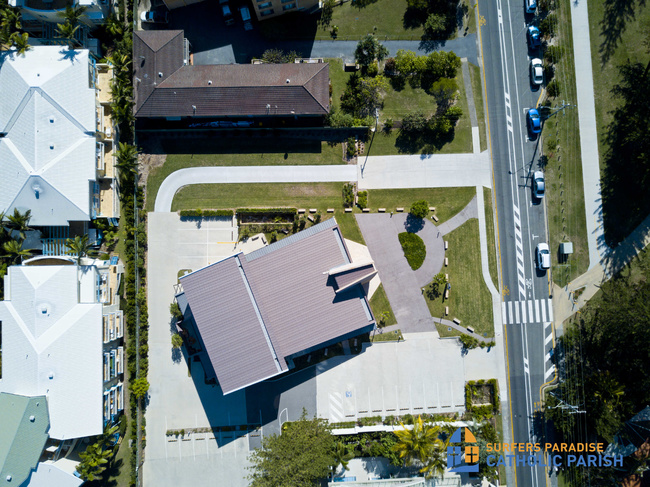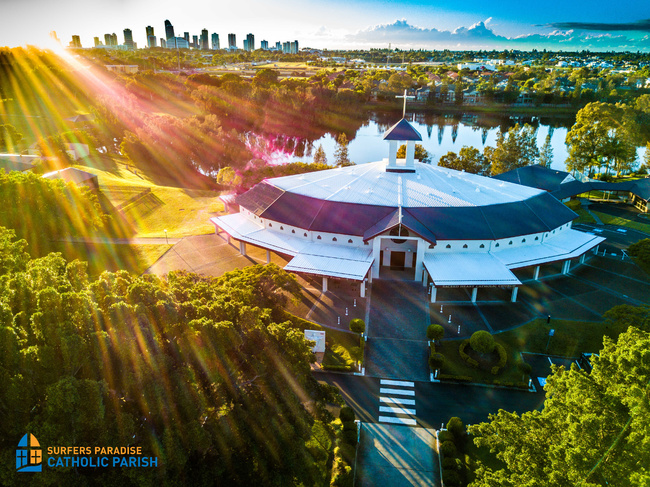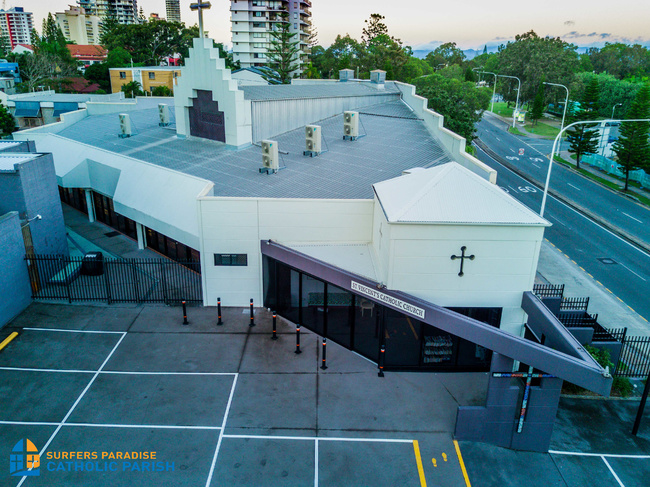 First Sunday of Advent - Two-Minute Homily: Fr Lucius Edomobi
Two-Minute Homily by Fr Lucius Edomobi for the First Sunday of Advent 2023. "Let us not allow this special grace that Advent brings to pass us by." The post First Sunday of Advent - Two-Minute Homily: Fr Lucius Edomobi appeared first on Archdiocese...
Latest News with the
Archdiocese of Brisbane
Read the latest news from within our Parish and the Archdiocese.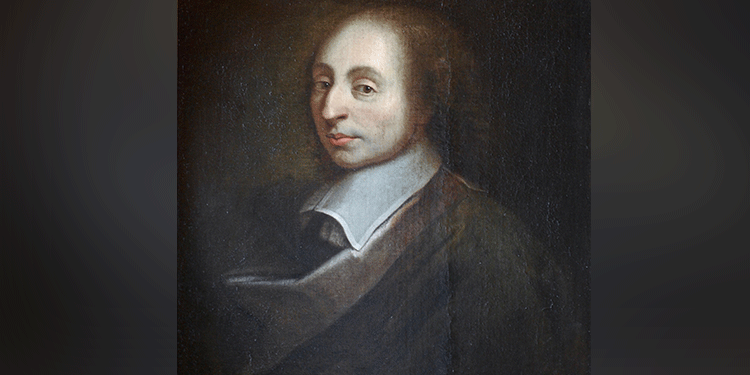 By Fr John Flader Question: I understand that Pope Francis has recently issued a document on Blaise Pascal, speaking of his contribution to the question...
Read More
Safeguarding is everyone's responsibility
ARCHDIOCESE OF BRISBANE (AND SURFERS PARADISE CATHOLIC PARISH) SAFEGUARDING POLICY -  
"The Church loves all her children like a loving mother, but cares for all and protects with special affection those who are smallest and defenceless. This is the duty that Christ himself entrusted to the entire Christian community." 
(Apostolic Letter issued 'motu proprio' by the Supreme Pontiff Francis, 4 June 2016) 
Purpose 
To promote a culture of safeguarding within the Archdiocese and reduce the risks of abuse and harm. 
Scope 
This policy applies to all parishes, ministries, and agencies under the jurisdiction of the Archbishop of Brisbane and to Associations of Christ's Faithful or Public Juridic Persons which freely opt-in to its application and which enter into an agreement with the Archdiocese accordingly. The policy applies to all Archdiocesan workers (including clergy, religious, employees and volunteers).
Policy 
National Catholic Safeguarding Standards 
The Archdiocese adopts and adheres to the National Catholic Safeguarding Standards. The Standards apply to all parishes, ministries, and agencies under the jurisdiction of the Archbishop. 
Safeguarding Commitment 
The Archdiocese has zero-tolerance for all forms of abuse and is committed to safeguarding everyone involved in its activities, ministries, and services. The safety and wellbeing of children and adults-at-risk is paramount. 
Safeguarding Principles 
Safeguarding is a shared responsibility. Treat everyone with dignity and respect. Prioritise the protection and best interests of children and adults-at-risk. Provide safe physical and online environments. Actively identify and manage safeguarding and abuse risks. Monitor compliance with safeguarding standards, policies, and procedures. Respond promptly and effectively to abuse concerns, suspicions, disclosures, complaints, reports, and incidents. Comply with all legal obligations to report suspected abuse and harm. 
Compliance 
Non-compliance with this policy which seriously jeopardises the safety and wellbeing of others may be grounds for disciplinary action up to dismissal or termination of employment and reporting to authorities. 
Document No.: AD16 ST01 Document
Owner: Office for Safeguarding Services
Version: November 2020
Review Date: November 2023
Safeguarding is Everyone's Responsibility
Acknowledgement of Country 
This is Kombumerri Country - The Traditional Custodians of this region. 
We respectfully acknowledge the Aboriginal and Torres Strait Islander people as the First People of this country. We pay our respects to the Kombumerri people, who are the traditional custodians of the land, waterways and seas upon which we live, work and socialise throughout this Catholic Parish of Surfers Paradise. We acknowledge Elders, past and present and emerging, as they hold the memories, traditions, culture and hopes of our Indigenous people. We pay tribute to those who have contributed in many ways to the life of the community. We affirm our commitment to justice, healing, and reconciliation between Indigenous and non-Indigenous peoples.
Website Terms & Conditions of Use
In these terms and conditions, "we" "us" and "our" refers to Surfers Paradise Catholic Parish, Gold Coast, Queensland, Australia.
Your access to and use of all information on this website including purchase of our product/s is provided subject to the following terms and conditions.
We reserve the right to amend this Notice at any time and your use of the website following any amendments will represent your agreement to be bound by these terms and conditions as amended. We, therefore, recommend that each time you access our website you read these terms and conditions.
Website Access
When you visit our website, we give you a limited licence to access and use our information for personal use.
You are permitted to download a copy of the information on this website to your computer for your personal use only provided that you do not delete or change any copyright symbol, trademark or other proprietary notice. Your use of our content in any other way infringes our intellectual property rights.
Except as permitted under the Copyright Act 1968 (Cth), you are not permitted to copy, reproduce, republish, distribute or display any of the information on this website without our prior written permission.
The licence to access and use the information on our website does not include the right to use any data mining robots or other extraction tools. The licence also does not permit you to metatag or mirror our website without our prior written permission. We reserve the right to serve you with notice if we become aware of your metatag or mirroring of our website.
Hyperlinks
This website may from time to time contain hyperlinks to other websites. Such links are provided for convenience only and we take no responsibility for the content and maintenance of or privacy compliance by any linked website. Any hyperlink on our website to another website does not imply our endorsement, support, or sponsorship of the operator of that website nor of the information and/or products which they provide.
You may link to our website with our consent. Any such linking will be entirely your responsibility and at your expense. By linking, you must not alter any of our website's contents including any intellectual property notices and you must not frame or reformat any of our pages, files, images, text or other materials.
Intellectual Property Rights
The copyright to all content on this website including applets, graphics, images, layouts and text belongs to us or we have a licence to use those materials.
All trademarks, brands and logos generally identified either with the symbols TM or ® which are used on this website are either owned by us or we have a licence to use them. Your access to our website does not license you to use those marks in any commercial way without our prior written permission.
Any comment, feedback, idea or suggestion (called "Comments") which you provide to us through this website becomes our property. If in future we use your Comments in promoting our website or in any other way, we will not be liable for any similarities which may appear from such use. Furthermore, you agree that we are entitled to use your Comments for any commercial or non-commercial purpose without compensation to you or to any other person who has transmitted your Comments.
If you provide us with Comments, you acknowledge that you are responsible for the content of such material including its legality, originality and copyright.
Disclaimers
Whilst we have taken all due care in providing the information on our website, we do not provide any warranty either express or implied including without limitation warranties of title or implied warranties of merchantability or fitness for a particular purpose.
To the extent permitted by law, any condition or warranty which would otherwise be implied into these terms and conditions is excluded.
We also take all due care in ensuring that our website is free of any virus, worm, Trojan horse and/or malware, however, we are not responsible for any damage to your computer system which arises in connection with your use of our website or any linked website.
Indemnity
By accessing our website, you agree to indemnify and hold us harmless from all claims, actions, damages, costs and expenses including legal fees arising from or in connection with your use of our website.
Privacy
We undertake to take all due care with any information which you may provide to us when accessing our website. However, we do not warrant and cannot ensure the security of any information which you may provide to us.
Information you transmit to us is entirely at your own risk although we undertake to take reasonable steps to preserve such information in a secure manner.
Our compliance with privacy legislation is set out in our separate Privacy Statement
Monies received by the parish
In the course of the parish activities, if you are giving a donation to the parish generally, the funds will be applied to the working expenses of the parish in fulfilling its purpose of providing sacraments and spiritual support to the people of the community.  Some particular services come with a suggested fee – for example, baptisms, weddings, sacramental programs, blessings, funerals, and also fees may be charged by the parish for use of parish facilities such as the hospitality centre or the parish hall, or perhaps a meeting room.  The money is applied to the cost of running and maintaining these activities and for administrative costs, as well as an included offering to the priest/deacon for these blessings.  If you are in financial hardship, please do speak with one of our staff or priests about your situation. The parish is a non-profit organisation, and we do care very much about looking after the resources and facilities we have, so as to be of service to the community.  There are significant ongoing costs that we pay in order to ensure that we are able to provide spiritual support and services to the community all year round. People need our services at different and sometimes unexpected times in their lives, and so we need income all year round, in order to be around regularly for people whenever their need arises
The name appearing on your bank and credit card statements relating to charges from us will be - "Surfers Paradise Catholic Parish"
Name appearing on bills (bank account statements, credit card statements) = Surfers Paradise Catholic Parish
Refund Policy
All requests for refunds must be made in writing (via email or post). The request should have the details of the initial donation/payment including the date, amount, name of the donor/payee, receipt number and the nature of the error.  For errors made by the Surfers Paradise Catholic Parish or its financial institution, a full refund will be made upon notification, and all costs borne by Surfers Paradise Catholic Parish
For errors in amount donated, the donor has 60 days in which to notify Surfers Paradise Catholic Parish. St Joseph's Catholic Parish is under no obligation to give a refund if an error has been made on your part, but will endeavour to ensure that any genuine errors (such as the amount donated) are rectified. The Parish, which is a non-profit organisation, reserves the right to deduct any bank or transaction charges for any refund processed onto the donor.